Do I need brick weep hole covers?
Without brick weep hole covers, mice, cockroaches, spiders and wasps can all enter your home easily through these holes in your brick walls.
Not only are these pests a nuisance once inside, but they can also create extensive structural damage without you knowing!
Chewed wiring and materials, along with filthy clutter from nests, are all expensive problems that can only get worse over time.
Even more concerning, their feces and excrement, along with their potential for bites and stings, all put your family's health at risk.

What happens if you cover weep holes?
If you cover weep holes and block them completely you risk trapping moisture inside your cavity walls which can lead to mold and mildew.
These fungal growths can eat away at your building's internal structures and can produce allergens that may trigger respiratory issues.
Sealing and covering weep holes in brick to stop a pest problem is not the answer as the issues this creates can be far more serious.
Only a quality weep hole screen can keep pests at bay while also allowing your weep holes to drain and ventilate your wall cavities.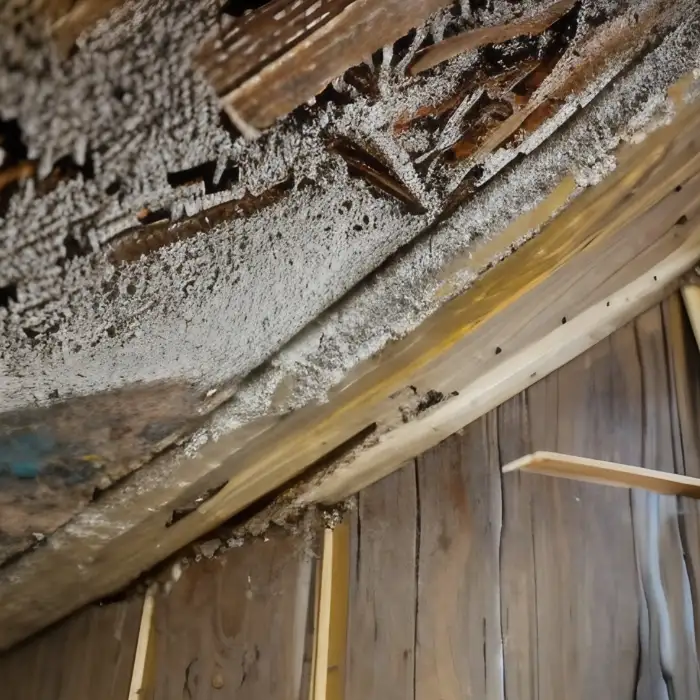 How do these weep hole screens work?
Simply insert these brick weep hole screens into your existing weep holes using the easy to use applicator tool that's included.
The unique design of these stainless steel weep hole covers for brick walls provides a sturdy and secure fit leaving no room for pest entry.
The screen's 1.6mm punched holes provide adequate cavity ventilation, helping your weep holes do the important job they're designed for.
Even better, the all-metal design helps exclude sparks and embers that may be present during wildfire events. Oh and they look stylish too!
How do I install a weep hole cover?
Installing our screens is easy with the patented applicator tool that comes in every pack. The tool allows you to align the screen to your weep hole and features a depth control stopper that helps you insert it to the correct depth.
Install your weep hole covers in three simple steps:
Attach the protector screen to the applicator.

Firmly press it into the weep hole until you reach the stopper.

Lift the applicator away.
Why you'll love these weep hole covers
Helps to exclude pests including; cockroaches, mice, bees, wasps, and spiders.

Helps to exclude sparks and embers that may be airborne from wildfires.

Ensures adequate cavity ventilation to reduce the risk of mold and mildew.

Stays securely in place due to the patented rib and fringe design.


Installs easily using the included tool that helps control depth of insertion.

Resists rust and salt corrosion due to the 316 stainless steel construction.

Each pack contains 20 x Weepa Protector Weep Hole Cover units.
Are these weep hole inserts for you?
Retrofit into existing weep holes with the below dimensions:
Height: 75mm (2.95″) high brick with allowance for mortar.
Width: 7mm (0.27″) – 17mm (0.67″) wide holes.
We encourage you to measure your bricks and weep holes first if you are unsure of their size to ensure our product will fit.
If your holes are shorter or narrower than these dimensions, you can modify our product and/or use an alternative installation method which is outlined in this Troubleshooting Installation Guide.
If your holes are taller than this size, it is also possible to use a second screen for added height and then cut it to the appropriate size. If using this method, you must check to ensure there are no gaps present greater than 3mm (0.12″) between and around both screens.
FAQs about weep hole covers
What is a weep hole screen?
A weep hole screen is a stainless steel insert that is placed in the weep holes of your brick wall to help exclude pests. They feature a mesh or grated screen that stops pests while still allowing ventilation of wall cavities.
How do weep hole covers work?
Weep hole covers work by providing a barrier inside or over the top of weep holes. This barrier is usually a screen or grate that prevents mice, cockroaches or other pests entering without disrupting ventilation and drainage.
Are weep hole covers necessary?
Weep hole covers may not be necessary by code but they can provide excellent protection against pests. By not using a cover, you provide an easy and direct entry into the internal structures of your building.
How are brick weep hole covers installed?
Connect a brick weep hole cover to the applicator tool, then push it into the weep hole until you reach the raised stopper on the tool. Remove the applicator tool and the screen will remain secured deeply inside the space.
How many brick weep hole screens will I need?
You will need one brick weep hole screen for every weep hole that you need to protect at your home. The number of holes varies widely across structures so it is best to do a visual count before purchasing. Each packet contains 20 screens.
Are the Weepa Protectors a good product?
Yes, we believe the Weepa Protectors are the best weep hole covers for brick walls. They are made from high-quality materials and designed to be easy to install. They have been tested to be effective in keeping out pests and sparks, while still providing adequate ventilation for the cavity wall.
Are these weep hole inserts for use during construction?
No, these weep hole inserts are designed to be used as retrofit options for existing buildings. If you are building a new home and want to secure your weep holes, you should use a former product instead during the construction process. Formers help builders create uniform holes and protect them right from the start of a building's life.
Don't weep hole plugs impede ventilation?
Yes, a weep hole plug that completely seals the weep hole would impede ventilation. But these are not weep hole plugs! The Weepa Protector has been designed to ensure adequate ventilation while still preventing pests. This airflow helps to reduce the risk of mold and mildew inside your walls.
Why not just use steel wool instead?
Steel wool is not an appropriate material as it restricts airflow. It can also break down and decay over time, allowing pests easy access to your internal structures. Finally, it can also stain your external walls! The Weepa Protector Weep Hole Cover is made from marine grade 316 stainless steel which is designed to last and can resist rust, salt corrosion, and other environmental elements.
What kind of pests can these stop?
These stainless steel weep hole covers can help keep out a wide range of pests, including; bees, wasps, cockroaches, mice, spiders, and even snakes! Other competing products lack the secure and long-term stable fit required to maintain a strong barrier against these pests. The patented rib and fringe design holds tightly inside your weeps making them an effective weep hole insect barrier.
Won't these just rust?
No, these weep hole guards have been made from marine grade 316 stainless steel to ensure that they are rust-resistant... even in coastal areas! They are also designed to stay in place for years so you don't need to worry about them being displaced easily by wind or rain. The Weepa Protector Weep Hole Cover provides a secure and lasting solution for weep hole protection.